ETCH-O-MATIC KITS
Etch-O-Matic Starter Kit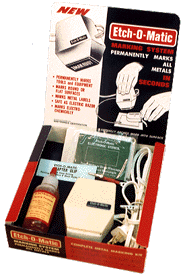 Lowest Priced Kit available Anywhere, Yet it Does the Job in Industry, in Plants, Machine Shops and Everywhere Metal Marking is needed. The Marker Unit is 10 volts, 2 amps and is Excellent for Light Duty Marking of Tools and Parts. (Transformer is inside marker unit)
KIT CONTAINS: ETCH-O-MATIC marker with standard head marking size 7/8" x 13/4", electrical cord, ground plate, 2 oz. Electrolyte solution in plastic bottle, 10 special stencils, neutralizer, deep etching adapter clip and complete instructions. Each kit will make approximately 1,000 marks before refill supplies are needed.
Etch-O-Matic Super Kit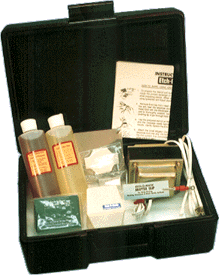 NEW SUPER ETCH-O-MATIC is a Powerful, 15-Volt, 10-Amp, Heavy Duty, Industrial Quality Marking System that can Stand Up to Continuous Duty, Production Line Marking. It can make Fast A.C. Marks, then Change Instantly to Deep Etch Marking Down to .003" Deep. It can make Large Marks 2" x 4" or Larger (with optional purchase of Medium or Large Grid Kits) for Trademarks or Etch Hard-to-Mark Coatings like Black Oxide Quickly. This is a Solid, "No Frills" Etcher that is Priced $200 to $300 BELOW Similar Kits on the Market Today.
KIT CONTAINS: 1 - 15-volt, 10-amp. marker unit with external transformer; adapter clip for deep etch marking; ground plate; 8-oz. general purpose electrolyte; 8-oz. neutralizer; extra pads; 100 pak special stencils; complete instructions and packed in sturdy plastic carrying case.
SUPER INDUSTRIAL KIT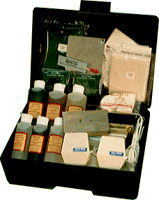 THE NEW SUPER ETCH-O-MATIC INDUSTRIAL KIT Combines the Best of Both of the TWO Kits Above and gives You enough Supplies to Mark Almost Any Type of Metal in the Average Plant. It also provides Great Value Because You get the Starter Kit 10-volt / 2-amp Unit Included FREE in the Kit. Also Included is a Large 2" x 4" Grid that Allows You to Mark Much Larger Areas at the Same Time. THIS IS REALLY A SUPER VALUE AT THIS LOW PRICE!
KIT CONTAINS: 1 Super and 1 Regular ETCH-O-MATIC marker along with an adapter clip for deep etch marking, ground plate, 8 oz general purpose and stainless steel electrolyte, two (2) 100 paks stencils, 4 oz. of aluminum, black oxide, and brass, copper & bronze electrolyte, 1 large 2" x 4" grid with stencils and pads to fit, 8 oz. neutralizer, 2 neutralizer powder paks, 1 extra regular grid and complete instructions.