Tools, Mfg. Parts, And Instruments With Names, Numbers,
Designs or Trademarks You Make With Your Computer
In Your Own Shop For Less Than One Cent Per Mark
In Just Seconds!
Nothing Is Easier, Faster Or Cheaper
And YOU Can Do It In Your Own Shop!
---
NEW METAL MARKING KITS For Your
Plant or Shop That Will Save You Real Time
And Money!!

Marks Anything Metal In Seconds!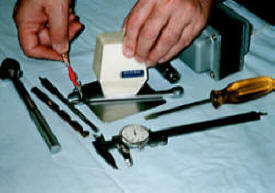 Etch-O-Matic
Electro-Chemical Marking Kits
Nothing Is Easier or Quicker
If You Make
Anything Out of Metal Such As Tools, Metal Parts Or Manufactured Products That Needs To Be Permanently Marked With Your Designs, Trademarks Or Product Information Then Please Check Out The
Etch-O-Matic Metal Etching Kits.

Etch-O-Matic Also Marks All Metals Including Stainless Steel, Brass, Copper, Bronze, Titanium, Aluminum, Tool Steels, Tin, Zinc, And Black Oxide Coatings.
---
ATTENTION KNIFEMAKERS
Etch-O-Matic
Marks Knives And Cutlery Easily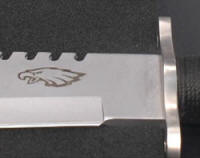 Click on the Photo To See
Etch-O-Matic Marking Knives.
KNIFE MAKING KITS
Now You Can Permanently Mark Or Etch Your Knives, Cutlery,
Swords Or Tools With Your Own Copy, Designs, or Trademarks
Right In Your Own Shop
For Pennies In Just Seconds!
Lowest Priced Kits Available On The Internet!
---
NOW MAKE YOUR OWN DURA-FILM STENCILS
TO PUT YOUR COPY OR DESIGNS ON ANYTHING METAL!
Mark 560 and Mark 680
Ultra Violet Exposure Units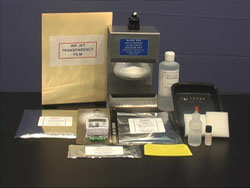 Click Photo Above to
Learn More About
Ultra Violet Exposure Units
Here Are Our Four NEW Stencil Makers
That Make Stencils That Let YOU Quickly and Easily Put Trademarks, Designs or Information on Metal Parts, Tools or Equipment In Just Seconds! And Your Marks will Look EXACTLY Like The Best Commercial Marks You have Ever Seen! You Do It With Your Own Copy Or Designs Using Your Computer and For Less Than A Cent Per Mark!
---
NEW RUBBER STAMP MAKING KIT
NEW RUBBER STAMP MAKING KITS
Uses a Special New Liquid Photopolymer (Responds To Ultra-Violet
Light) to quickly and easily make Commercial Grade Rubber Stamps
( Or Art Rubber Stamps) with Copy, Designs or Artwork you make with
Your Computer in Any size up to 6"x 8".
Most Stamps can be made in LESS than 15 Minutes from start to completed stamp and there is enough Liqui-Stamp Photopolymer in the kit to make 300-400 sq. in. of Rubber Stamps (at $5.00 per sq. in. on Commercial Stamps) that is $1,500.00 Worth of Material.

Added Bonus: These Kits Also Make Stencils for Etching Metal & Glass or for use with Paint to paint your designs on anything paintable...And
You can even make Aluminum Labels.
There is NOTHING like this on the Market Today that is so Versatile,
Easy to Use and Economical!

Learn More About Our Rubber Stamp Kits
---
Now Make Aluminum Signs, Labels, Decals,
Equipment Tags And Nameplates In Minutes!
SIGN-O-MATIC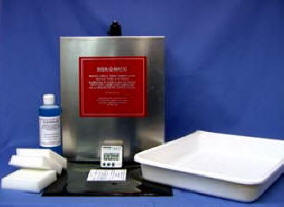 Click On Photo Or Below
To See Video On Signmaking
More Info On Sign-O-Matic Kits
SIGN-O-MATIC
(The Easiest Sign & Label Maker Available Today!)
NOW You can Create With Your Own Computer any Copy or Designs You Wish and then Make Professional Quality Signs, Labels, Decals, Equipment Tags, Nameplates and Panel Fronts In Minutes in Your Own Shop.

You can make them on Aluminum With 3M Adhesive Backing
in Three Colors including:
Red, Black, And Blue.

---
Sign-O-Matic Was Featured On
National Television On The DIY Network
Showing The Easiest Way To Make Quick
Inexpensive, Yet High Quality, Signs!
To See The Video Just Click Below!
---
Great New Product Idea!
Now You Can Use Your Metal Etching Stencils
Made For The Etch-O-Matic Above And
ETCH GLASS!

Here Is A Great New Idea That Lets You Use The Stencils
You Make For Metal Etching...And Etch Almost Anything
Made Of Glass In Just Seconds. All You Do Is Create Your
Copy, Designs Or Artwork On YOUR Computer, Make A
Stencil (Like Above) And By Using Our New Glass Etching
Kits You Can Etch On Glass!
See Glass Etching Kits...Click Here!
---
There is Nothing Like These Kits Available Anywhere
On The Internet At these Low Prices!

---
Transparency Film

Transparencies are used for printing the copy or designs created on your computer. They are then placed in the UV Dura-Film Stencil Maker and transferred onto a piece of unexposed Dura-Film stencil. Please specify laser or inkjet, depending upon the type of printer you use.
Available Size: (Inkjet and Laser Available)
10 Pack 81/2" x 11"

$19.95
Special Offers

Would you like to be notified of special offers and new products? Would you like us to send you tips for expanding your etching business, or just more ways to enjoy your etching hobby? How about special members-only discounts? Try subscribing to our newsletter, and you'll get all these things and more.
---
Martronics Corporation is an Expert in
Marking Metal and Etching Metal, Multi-Tools, Craft-Stencils, and Making Rubber Stamps.
Save Money on Your Auto Insurance.
Click Here to See Our VIN Etching Kits On Sale for $14.95.
Our New Glass Etching Kits Let You Put Your Artwork On Glass In Minutes.
---
Interested in Becoming an Affiliate?
---
MARTRONICS CORPORATION
ETCH-O-MATIC SIGN-O-MATIC
Martronics Makers of Etch-O-Matic Electrochemical or Electro-Chemical, Marking Devices, Can Answer All Of Your Marking Problems Regarding Marking Metal, Etching Metal, Tool Marking, Die Marking, Electrolytic Etching, Electrolytic Marking, Parts Marking, Metal Marking Machines, Product Marking, Marking Systems, Etching Knives, Acid Etch, Acid Etching, Dura-Film Stencils, Sign-O-Matic or Signomatic, Signs, Metal Signs, Decals, Polyester Decals, Tags, Metal Tags, Panel Fronts, lnsta-Mark Labels, or Instamark Labels, Ultra-Violet Exposure Units, Ultraviolet Exposure Units, Marking Devices, Mark 440, Mark 560 or Mark 680, Mark 1000, U.V. Exposure Units, Marking Machinery, Etch-Mark, Chem-Etch, Monode, Marking Methods, Electromark, Photochemical Etching, Etchmark, Chemical Etching, or Etchomatic.